Machine coating
Nordson Asymtek SL 940
An automatic dispensing and coating automaton.
Coating of boards sized 500x400mm with components of up to 100mm in height.
A possibility to create agents for specific PCB designs to ensure accurate coating of components.
Precise jets with laser ray control ensure even and accurate coverage with the PCB varnish.
Inspection of varnish application during and after the process using UV light.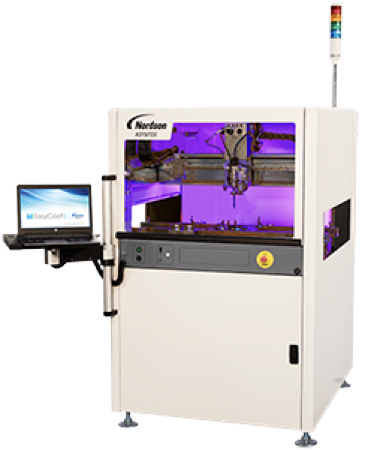 Washing
MB tech N29 SA4
An ultrasound washing device for cleaning of the solder paste and glue off SMD stencils or off wrongly printed PCBs and also for cleaning of mounted boards.
An enclosed washing circuit with an inbuilt filter can separate impurities from the cleaning agent and ensure high-quality cleaning while at the same time preventing leaks and environmental pollution.